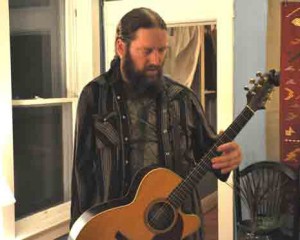 Born: May 11 somewhere near the lower to mid 1970's in the western province of Portland Oregon.
Mid '70's moved towards Pocatello Idaho where he was involved in a VW Bug rollover resulting in serious surgical procedures. Physical therapy and tremendous internal spirit combined to create an amazingly brilliant lead guitar, bass guitar, dobro, banjo player.
A musical background composed of his dad J.B. ( guitar, banjo ) mom Mariyett ( cello, viola, fiddle, guitar ) and brother Matthew (drums, percussion, PA ) helped nurture his desire to enjoy sonic freedom with startling impunity.
Outstanding influences include Allman Brothers, Black Sabbath, Cream . . . Musical tastes vary from jass-fusion to rhythm & blues.
Prefers playing as a three piece orchestral arrangement. early 90's studied jazz improvisation during sojourns through the Portland Oregon music scene with other local jazz impresarios.
Bands currently focused on live entertainment include: Voodoo Horseshoes; part-time bassist for the shoeless hordes scouring the region.
Mahamawaldi; lead guitar and vocalist for a heavier, metallic spasm using syncopated rhythms. Toured the Northwest territories of Washington, Oregon, Idaho and Montana beginning in '98.
Bitter Root Range; lead acoustic and electric guitars, dobro, vocals. Songwriter, moral & ethical support.
Papa bear styled intensity for Dead tune-age. Played the Salmon River Drainage for a wedding, coffee house, Roxy theater, public library, summer solstice party and jewelry store foyer.