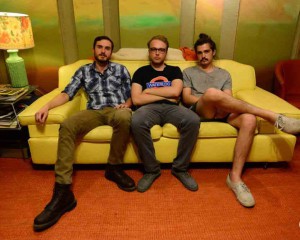 Dome Dwellers is an experimental indie-rock band that creates "danceable, progressive and infectiously unique" music. Hailing from Denton, TX, the young band's songs are energetic and sporadic, characterized by jangly fast fretted guitar work, rhythmic complexity and innovative melodic hooks coupled with dynamic vocals. While cautious to use the label themselves, Dome Dwellers has been described as math rock – incorporating some of the stop start elements and angularity of this genre while maintaining firm footing in other musical styles.
Dome Dwellers traces its origins to summer 2012 when Michael Slack and Cullen Dean began playing music together after their previous projects dissolved. David Gore joined the band soon after. The band members met while students at the University of North Texas where two are still finishing degrees.
The name, Dome Dwellers, refers to the beloved home of E. Rex Slack, the "transcendental architect" and grandfather of songwriter, Michael. The 60's era geodesic dome house built by the elder Slack is featured prominently in the band's artwork, notably on the cover art of their debut album, "Maybe I Should Have Some Pride", illustrated by Michael.